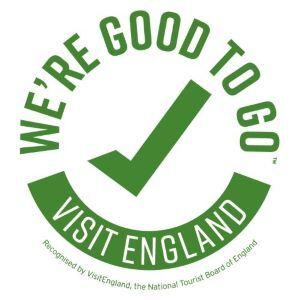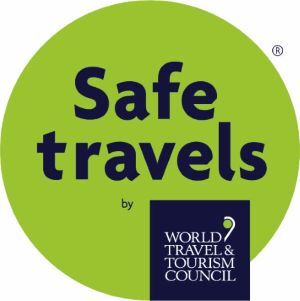 Cotswold House – WE'RE GOOD TO GO
To ensure a worry free stay with us we have made a few changes to the way we do things. Risk Assessments have been updated and are available to view if requested.
Prior to Arrival:
Guests will be contacted 7-10 days before arrival so we can obtain any relevant information that is required and to inform them of any processes and updates we think they should be aware of before they arrive.
On Arrival:
On arrival we will be there to welcome you. Hand sanitiser will be available for you to use on entry and at the reception desk. Payment if not already taken will be taken on arrival. Keys will already be in guest rooms to limit contact. We will direct you to your rooms so you can make your own way. We are unable to take any luggage up to rooms for guests. At all times we would appreciate all guests to respect social distancing.
As we are only a small guest house it is rare that several guests arrive to check in at the same time. If this does happen we would request that guests be patient if requested to wait outside or in their car for us to clear the reception.
General Housekeeping:
Communal area cleaning has been reviewed and enhanced. All staff have been updated and trained with regards to the new processes.
Hand Sanitiser is located by the front door, by the dining room entrance, on the reception and on the 1st floor landing by bedroom 3.
All major touch points within communal areas will be sanitised at regular intervals and a cleaning roster initialled on completion.
Breakfast:
The way we do breakfast has had to be adapted due to current guidelines. We are no longer able to supply a help yourself breakfast bar. Breakfast will be served in 2 sittings and will need to be pre-ordered the evening before. A Breakfast Pro-forma will be left in rooms for guests to complete and then leave in a basket on the reception no later than 2030hrs on the evening before. Time of sitting will be highlighted on the proforma and guests are requested to adhere to the breakfast sitting they have been allocated. Hand sanitiser is to be used on entry and exit of the dining room. Your table will be numbered the same as your room and this will be your table for the duration of your stay.
These changes are to assist with minimising contact with other guests in the dining room and to assist with social distancing in our dining room to ensure we can still deliver a high standard of service.
Housekeeping – Bedrooms
Daily cleaning of rooms will be completed unless you tell us you do not wish to have your room serviced. Staff will be provided with PPE where required and will only enter the room if it is empty. Daily cleaning of the rooms will include washing down bathrooms emptying bins and removing dirty crockery from the room and replenishing the tea/coffee trays. Please be aware all crockery goes through our dishwasher.
On departure a full room clean and sanitise will be completed. This will include cleaning and sanitising en-suite bathrooms, steam cleaning all soft furnishings, washing down all areas of the bedroom and replacing all tea/coffee tray items.
Please be aware our laundry is done via a 3rd party. All linen and towels are washed at 60 degrees and tumble dried at 170 degrees as per government guidelines.
Bar Lounge/Decking:
Our Bar Lounge and decking will be available for guests to use as long as social distancing is respected in all areas. Only one person at a time is allowed to be served at the bar and we are happy for drinks to be consumed in rooms.
Guest Health:
It is essential that you do not travel if you are experiencing any signs of COVID-19 or if you are from an area where local lockdown has been initiated. If you are concerned about anything prior to your stay you should contact us at the earliest opportunity and discuss options with regards to your stay with us.
If you develop symptoms during your stay we ask you to inform us at the earliest opportunity, immediately self-isolate in your room and request a test. If the test is positive you will be asked to return home immediately. If you are unable to return home immediately then your circumstances will be discussed with local healthcare professionals and the local authority.
We ask you to download and use the Track & Trace App when it is fully operational.
IT IS THE RESPONSIBILITY OF ALL GUESTS TO BE AWARE OF AND TO FOLLOW GOVERNMENT GUIDELINES ON DEALING WITH POSSIBLE OR CONFIRMED COVID-19 INFECTION.
Summary:
We are following government guidance and best practices from key tourism bodies to help inform you of the way we plan to work during these 'New Normal' times. We will constantly review all guidelines and update as necessary as information and policies change.
Finally we would like to thank you in advance for your cooperation and understanding and hope that you enjoy your stay with us.
Until we see you Take Care and Stay Safe
Liz, Jay & Olive
Cotswold House